Dr. Karen Kelly, Chief Executive Officer
Alexandria, VA

Karen co-founded the organization in 2013 with her husband Sean and handles the day-to-day operations, including program management, communications & marketing, development, and financial management. She is passionate about assisting anyone seeking support and resources regarding pregnancy loss and is dedicated to ensuring no grieving parent ever feels alone. In her spare time she enjoys traveling, baking, watching sports, and hanging out with her husband and son.
Contact: kkelly@throughtheheart.org
---
Meghan Cockrell, Volunteer Coordinator
St. Augustine, FL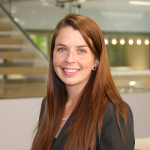 Meghan works in health promotion and disease prevention for a major health plan. She is very passionate about public health, mental well-being, and partnering with other women to discover opportunities for collaborative growth and development. Meghan currently resides in sunny St. Augustine, FL. In her spare time she likes traveling, watching college football, and spending time with her family. As Volunteer Coordinator with TTH, she serves as the central point of contact for prospective volunteers.
Contact: mcockrell@throughtheheart.org
---
Education Outreach Coordinator
This position is currently vacant. Interested in joining our team? Please submit a volunteer interest form and we will be in touch!