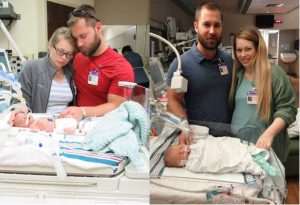 First comes love: My husband, Matt, & I are middle school sweethearts from Texarkana, TX. We grew up going to the same school & church. After a good year of crushing on my part, we started dating in April 2002. Since then we have been inseparable.
Then comes marriage: In April 2012, after ONLY 10 years of dating, Matt proposed while we were in Breckenridge, CO. It was absolutely beautiful, he said all the right things as he got down on one knee, & I, of course, said YES! We got married on April 7, 2013, surrounded by family & friends. The wedding was beautiful & I just knew we would live "happily ever after".
Then comes baby? A few years into our blissful marriage, Matt and I discovered we were pregnant. In February of 2016, after we had reached the safety of the second trimester, we started letting people know we were expecting. Some were shocked (I'm sure my mom thought the day was never coming) but everyone was happy for us. Unfortunately, a few weeks later we learned the baby had a severe neural tube defect called Anencephaly, and we lost the baby shortly after.
We were obviously upset but ready to try again as soon as possible. I got pregnant in November 2016 and we were so optimistic that everything would be okay this time. Pre-pregnancy I started taking extra folic acid to reduce the risk of neural tube defects, exercising, & eating a balanced diet so when we got the results saying the baby showed no signs of birth defects we were ecstatic but still nervous to share our big news. Some of our family didn't even know we were expecting when we called to tell them I had gone into preterm labor at 24 weeks & had delivered a little boy via emergency C-section.
Warren Estes came into the world weighing only 1lb 11oz on April 12, 2017, at 3:12 pm but he was so strong. Unfortunately, he contracted a hospital born infection from mold during his stay that was misdiagnosed until it was too late. We had to say goodbye at just 17 days old & it left us devastated. After losing Warren, we took some time to grieve, to allow my body to heal, & just recover what it meant to enjoy life.
We tried again for a baby in October of 2017 & were instantly pregnant. I met with a Maternal Fetal Medicine doctor & we developed a game plan to bring home a healthy baby this time. I kept taking folic acid, I went on modified bed rest, took progesterone shots weekly, & had frequent prenatal visits. The weeks went by, our visits were always positive, no issues until I woke up early on June 9, 2018, in pain. As we proceeded to the hospital as quickly as we could the pain grew & we arrived panicked at the hospital.
The triage brushed us off as normal panicked parents in labor until they couldn't find Adaline's heartbeat. They then rushed me back in for an emergency C-section & found my uterus had ruptured. Adaline had to be resuscitated at birth & I was lucky to be alive. Adaline was born June 9 at 7:23 am weighing 6lb 7oz & basically lived in our arms the next few weeks. It breaks my heart to say that although the doctors were able to bring her back it wasn't enough. She suffered severe damage to the brain & passed away 20 days later in the NICU.
Once again involuntarily childless: Matt and I are still grieving our losses and in some ways, we will always be. After being told I can't carry again without risking my health or the baby's, I'm looking to surrogacy. We are currently raising funds for an IVF journey and a surrogate to carry for us.
-Amanda Gill
Maumelle, AR
Published 5/14/19