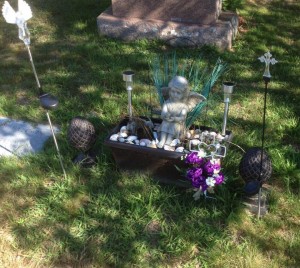 This has been the worst year of my life. I'm only 22 years old and no one will believe the tragedies I've gone through. I had two miscarriages in the year of 2013. It broke me down and I never thought I was going to have a child of my own.
Then in May 2015 I found out I was pregnant again with a beautiful baby girl. I was at work one day and felt as if she was pulling on the umbilical cord and it hurt really bad. My boss wouldn't let me go home because no one else was around to cover my shift. I went home after my shift ended and decided to relax.
The next day was Mother's Day, I was so happy that I could celebrate being a mother. I began to notice that I didn't feel any movement throughout the whole day so my fiance decided to take me to the ER. The doctors did an ultrasound and saw that there was no heartbeat. At this point I was 31 weeks pregnant.  6 days prior to this happening I had an ultrasound that stated she was perfectly fine and had plenty of fluids. I had to wait two long painful days to give vaginal birth to her. When she arrived the cord was wrapped around her neck three times and the doctors said that the placenta detached. I held her in my arms for as long as I could, telling her how sorry I was that I didn't realize she was in pain and that I love her with everything I have.
We got her baptized and a few days after had a service for her burial. I never thought that I would have to bury my baby like that so fast without even hearing her cry. Her name was Tessa Marie. I think about her every second of every day and cry so much that tears barely come out anymore. I don't think my life will ever be the same knowing that this happened and could most likely happen again if we decided to try again.
-Ashley Paige Bello
Chepachet, RI
Published October 26, 2015