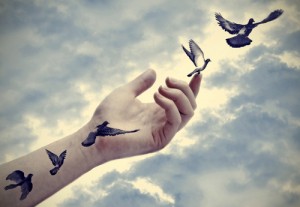 Hi friends, I had my 3rd miscarriage on July 10, 2016 at 17 weeks. My 1st miscarriage was in December 2013 at 19 weeks and 2nd miscarriage was at 8 weeks in 2015. In all 3 I had a subchorionic hematoma that leads to bleeding, clotting, pain, contractions and the baby expelled out on its own. This time I was having bleeding since 14 weeks and by the time I reach 16-17 weeks I was gushing out blood.
I visited the ER on July 9, 2016 to check the baby it was all fine but the midwife said that there was a tear at the edge of placenta and the baby's fluid was also low as compared to 4 months. After 1 hour I came back home but the next day I started having intense pain, vomiting and passing clots. I told my hubby to take me to ER again. In the meantime my uterus was so tight and contracted that I easily saw my baby's head right near my cervix. I told my hubby that now something big is going to come out and in a flick of second the baby was all out. I was lying on my bed in my bedroom and my hubby called 911.
They came and told me that we will deliver the baby here but my baby was half in and half out so they said that we will wrap you like this and take you to hospital. Meanwhile, as they were preparing, everything came out on its own -my baby, sac, placenta, everything. The same thing happened to me when I was pregnant the first time, I was 19 weeks then and the baby expelled out on its own because of contractions. I am not feeling bad for myself but for my babies – one second they were breathing in me and the very next second their breath stopped.
I wonder how much pain they had felt. Every living thing whether it's human or animal when the breath goes away it gives so much pain to that thing. I really miss all my 3 babies. I got married in 2013 and in these 3 years I have had 3 losses. I know they are in safe hands but I also want to feel them in my arms. I pray each day to God to bless my babies and us with a healthy pregnancy. Now before planning I would like to discuss everything thing with my doctor about why I get this clotting, bleeding, pain and contractions that expel the baby out on its own. So many questions going on in my mind. I am all so helpless right now. Mind not working at all . Hope to get the good news with a healthy pregnancy soon for me and all those mums who suffer losses of any kind.
-Bhawna
Ohio
Published 9/6/16