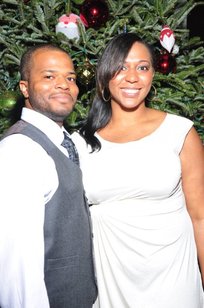 My husband and I were married on October 13, 2013. An impossible planner, and very well organized, I literally planned out every minute of our life. Every minute. But when I got that first pregnancy test, I didn't plan for that. I wasn't on birth control any longer, but after just having surgery to remove my fibroids a year before, I just didn't think we were ready. But we were pregnant and that was that! We were elated, due April 2015, and told everyone. It was, however, short lived. By week 7, in August, there was a sac, but no baby. I wasn't too hurt, because it didn't fit in with the "plan." It was ok. We would try again at the beginning of 2015 in our new home, more stable and able to really enjoy it.
And it happened. On my birthday. I knew the second it happened, just like I knew the second I met my hubby he was the one. On Valentine's Day I told him and he was thrilled. We took all the precautions and tests, everything was ok. It really was. I was viciously sick with morning sickness and found out I had hyperemesis gravidarum (HG), but again, that was ok. It was a sacrifice I would make for this perfect angel to be born around our anniversary, a much calmer date in our life and a perfect celebration for year 2.
Week 18 was different though. Week 18 didn't show me as much favor as the other weeks had. We'd made it through every statistical issue, suffered through the HG, and then my water broke. I didn't think that was what it was, but it was. Called the doc, and they told me it was going to be okay, the baby was carrying low and probably just kicked my bladder, monitor the movements and call back. Saturday was fine, I worked, no pain, some movements, and just tired. So I slept. Sunday I awoke, preparing to go to the store and have some "me time," but something was different. I was cramping, not heavy, no bleeding, and passed it off as round ligament pains. They were real, they happened before, I wasn't crazy. But these were different. My hubby was prepping for work and I told him the cramps were getting like contractions. And they were just that. We joked that it was good practice for when the baby came.
Then the baby came. I went to the bathroom to pee thinking I'd found some relief. And the baby came. Then the tears and the blame. The anger. The frustration at myself.
The ambulance came for me and carried me down the stairs, my angel in a covered something so I couldn't see. I was balling, my husband was balling and trying to contact family to meet at the hospital, and I couldn't bear to even say words except for this is my fault. My fault.
At the hospital the doctor and nurses were great. They rushed to my side to take care of me and get the rest of the event over with. Try to naturally deliver the rest. And on the counter just lay my birthday present. They eventually moved the baby to the bed to let me know if it was a girl or a boy, and I writhed in pain because I was having to still go through labor. I slept for what felt like 5 minutes, but had to have been longer, and woke up with chills, a fever, and much pain. I just remember begging for it to be over, feeling the contractions–knowing they didn't mean anything–and suffering for a moment. Everywhere I looked I saw the covering where the baby was. It was a boy. Devastating because my husband had wished badly for that son. Right after that news sent another contraction the doctor realized there was just too much blood so we had to do a D & C.
And I couldn't find any words. The hospital volunteers brought me a series of books and pamphlets and hand knitted things. All beautiful, but there was never a baby they could bring to me. I'm still hurting, I am still crying. I still feel pregnant, I still can't eat. But eventually that too will fade.
-Brandy S.
Stone Mountain, GA
Published 6/3/15