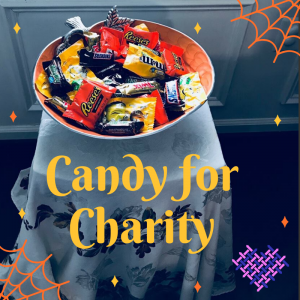 We are grateful from the overwhelming response from our community! At this point we will not be collecting any more candy, but please remember us next year! Thank you!!
After the Halloween fun is over, an important question arises: "What do I do with all of the leftover candy?"
Please consider putting it to good use and donating it to charity!
We use individually wrapped candy in our Comfort Kits that are sent to parents who have experienced a pregnancy loss. We would be very grateful if you would consider sending your excess our way! 🍫
This year, we are offering 2 ways to contribute:
Candy can be dropped off at these locations (boxes will be out front):
Candy can also be mailed to:
Through the Heart
6530 Gildar St
Alexandria, VA 22310
Due to an overwhelming response we have suspended pickups. Please feel free to drop off or mail if you can! Thank you!
In 2019, we collected enough candy to supply our kits for almost 11 months – this year, we have a goal of collecting enough to make it through the entire year! Thanks so much for your support! Any questions can be directed to us at info@throughtheheart.org