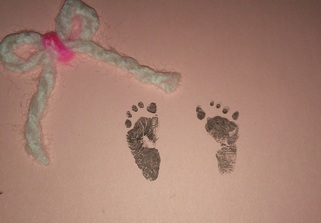 My story began a year ago. We knew we wanted to start a family, have a baby, so we went to a preconception appointment. My doctor gave us the all clear to start trying, I began taking prenatals and we truly lucked out as we were pregnant within that first cycle of trying. I had all the pregnancy symptoms and even started with a little baby bump. We were so excited! Our 7 week appointment showed a slow fetal heart rate, but they said it doesn't necessarily mean anything. They had us back in 2 weeks for a follow-up. That's when we learned the baby's heart had stopped and he or she stopped growing. It was heartbreaking.
I had no idea what to do or what to expect. My doctor gave me options and I chose to take medication and see if I could  pass everything on my own. I didn't expect the cramping or bleeding to be so intense. I was so hurt and confused. It took several cycles for my body to bounce back. We were brave enough to try again, and it did take a little longer than the first time but we were blessed! Again! The pregnancy symptoms were even more intense this time. We could not feel excited and this time we waited to buy things or tell people. We were too nervous…too scared. After each ultrasound, each doppler, each check up that hope, that dream, seemed just a little more real. Our fears slowly shifted to excitement as we learned she was a girl and had a 1 in 200,000 chance of several chromosomal problems. Everything was perfect!
We finally shared the wonderful news and started preparing for our daughter. Each week I felt her moving more and saw her growing. I had 2 nights go by where I didn't feel her move and I got concerned. I had been working a different schedule those two nights, and figured I was just being paranoid due to the previous loss. Besides, I had a doctor appointment that next day anyway. At the doctor's, he failed to find her strong heartbeat on the doppler. An ultrasound confirmed our worst fears. That's the day that shattered our lives FOREVER.
We have no choice to go on, but we will never be the same. I was more than half way through my pregnancy. I thought we were safe. Sadly there is no safe. Again I was given options (only this time different due to being much further along). I chose to give birth. The numbness and shock carried me through the whole 8 hours of labor. I delivered our little girl. She was perfectly formed/developed, just very tiny. She had my face and her father's big hands and feet. Though she wasn't alive, she felt that way to us.
We enjoyed several hours with her. We cherish the pictures, hand and footprints, moments we shared. She touched our lives forever. We chose to have a service and to bury her. Family and friends were a part of every process. Sometimes it feels too real, other times it feels it never happened. It's like a bad nightmare we cannot wake up from. The grief comes in waves. We just take it one day at a time and try to have faith she's an angel now (we named her Faith).
-Danielle F.
East Providence, RI
Published 6/29/15