Healing Through Art is a project offered by Through the Heart to help you express your emotions, deal with grief, and memorialize your lost child(ren). The project is presented in full detail with step-by-step instructions and photos to allow you to complete it at your own pace and have been created by one of our organization's volunteers, Donna. In each tutorial Donna shares specific examples of projects she personally has completed but keep in mind that these projects are meant to be individualized, not copied, so don't stress about making it look exactly the same. Since everyone's journey of pregnancy loss is different, the ideas given here are meant as examples of what you can do. There is no right or wrong way to complete a project.It is our hope that this project will provide a creative outlet for you to process your loss. If at any time you have questions, need assistance, or just feel stuck, please contact us so we can help guide you through to completion.
---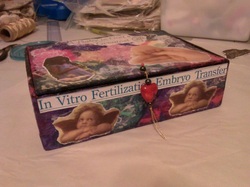 About Donna L. Robichaud
Donna L. Robichaud of Corpus Christi, Texas, is the creator of the project featured in our Healing Through Art program. After losing 11 children across 6 pregnancies, Donna went on to find her own healing through a variety of art projects such as memory boxes, scrapbooks, and masks using a number of materials and techniques. She holds a Bachelor of Fine Arts in Ceramics and a Master of Arts in Community Counseling.
---