On Halloween afternoon, I was sitting with my kids watching It's the Great Pumpkin, Charlie Brown, when my husband asked me if I knew the symbolism of a white pumpkin. Nope! He heard on the radio that it was a symbol for pregnancy and infant loss. What? I had never heard of that!
Now I've been a part of the pregnancy loss community for 8.5 years and I feel I know a decent amount about these types of things, but this one had slipped by me. A quick search of the internet confirmed that white pumpkins are indeed chosen and set out in honor of the babies who have gone too soon.
Huh.
I am a lover of fall and pumpkins and we currently have 5 white pumpkins in our house, a few of which my younger son picked out at the pumpkin patch earlier this month. Next year, we will look for a way to incorporate white pumpkins into some of our activities. It seems like it would be great to pair with my candle for the Wave of Light.
Did you know about the symbolism of white pumpkins? Do you have any special traditions with them?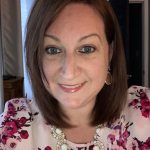 Karen Kelly is the co-founder and President & CEO of Through the Heart. She & her husband Sean lost their first child in February 2013 when they terminated for medical reasons at 20 weeks and lost their second due to miscarriage at 12 weeks in June 2015. The couple welcomed a healthy, beautiful baby boy in August 2016. After another miscarriage in July 2017, their second healthy and equally beautiful baby boy joined them in July 2018. Karen is an avid sports fan and enjoys traveling, baking, and 90s alternative music. She lives in Edgewater, MD, with her husband, sons, and 2 cats Smokey and Plinko.