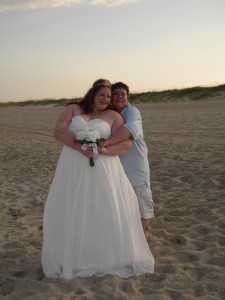 I met the love of my life on New Years Day 2014. We hit it off immediately, just clicked & everything just fell into place like it was meant to be. A year & a half later on July 15, 2015 we were married in a beautiful ceremony on the beach surround by our immediate family. In anticipation of wanting to start a family I had started tracking my cycles, using OPKs and temping 8 months prior. I had also had levels checked by my OB and we discussed fertility.
I started so early because we are not your traditional couple – we are both women. Being in a same sex marriage obviously means much more planning. We spent months searching for the perfect donor and vetting them. We finally found a local donor & we had a contract drawn up and on September 1, 2015 we performed our very first insemination and 2 weeks later I got a positive pregnancy test. We could not believe it worked the very first time! Even with tracking for 8 months we never expected it to work the first time. We were elated!
We wanted to wait until 12 weeks to tell people, so besides a couple close people we kept our mouths quiet. I had sore boobs, nausea, food aversions…. the "typical" pregnancy symptoms. On October 14 my first ultrasound was scheduled. I was 8 weeks pregnant. My wife & I anxiously & nervously waited and when we got into the ultrasound room I think we knew something was going to be wrong. I can't explain it. I'm a large plus size woman so I knew a transvaginal would need to be done to see anything but she tried on my stomach first. Nothing.
We moved on. When the picture came up I saw a sac… but it was empty. I immediately panicked and started sobbing. I didn't know the name of it – but I knew I should see a heartbeat & I didn't. My wife held my hand and just stood there in shock. The ultrasound lady tried to stay positive and say sweetie don't panic, your dates could be wrong, maybe it's too early. I said there's no way – we planned, we tracked, we did 1 insemination. Not a chance.
We waited for hours and hours to see the doctor because we were now a "work in" appointment. It was terrible. When we finally saw her she told us that we had a blighted ovum. That I was pregnant – my egg was fertilized and implanted, but only my gestational sac grew. We were gutted. We waited over 2 weeks before taking Cytotec and I ended up in the ER and almost needed a blood transfusion (I'm hypothyroid & anemic both of which are under control). They got everything under control & the next day had a follow up ultrasound. The sac had collapsed and still had not yet moved down far enough so the following morning on November 3 (the day before my birthday) I had a D&C.
I spent the next 6 weeks crying every day, having high anxiety, not knowing where to turn. After Christmas I started therapy. It has helped put me in a better place.  I am trying to learn how not to have anxiety & stress when we do get pregnant again so that we can enjoy our next pregnancy. Miscarriage is a taboo subject – something rarely talked about. It's painful, and people who haven't experienced it do not understand. Hearing "at least you can get pregnant," "oh you can try again," or "at least the baby didn't have a heartbeat" does NOT help.
I am a mother. I lost a child – a son. I know we never officially knew, but we were convinced it was a boy from the second we got pregnant. Our son's name is Benjamin and we will never forget him.
-J. Kemp
North Carolina
Published 4/18/16