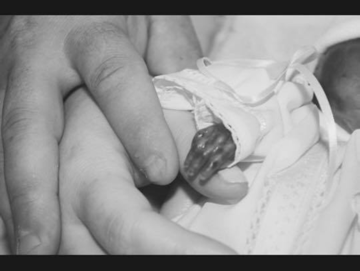 My story started 5 years ago. We were surprised and very excited to find out we were pregnant. Two days after finding out, I had a miscarriage. A few months later I was pregnant again. We went in for our 10 week scan and there was no heartbeat. I had a D&C a few days later. I had 3 more miscarriages.
We then found out we were pregnant again. Everything was going great. We made it to 18 weeks. I woke up that morning and all of a sudden my water broke. We went to the hospital and it was confirmed that my water did indeed break. I was admitted and we were going to wait and see what would happen. A few days into my stay I became septic and very critically ill. Our son was born sleeping on October 3, 2015, while I was fighting for my life in CICU. There are no words to describe the pain I felt. There are no words to describe the guilt and heartbreak I felt for my husband. It was later determined that I had an incompetent cervix.
In December of 2015 I was pregnant again. This time my doctors placed a cerclage at 14 weeks to keep baby in and safe. Everything was going fantastic. I was 22 weeks pregnant and feeling wonderful. I woke up one morning and felt a lot of pressure. I could feel my membranes bulging out. I immediately rushed to the hospital. My water bag had slipped passed my cerclage. I then started going into labor. I was given meds to try to stop the contractions but it didn't help. My water broke and our daughter was born a few hours later on May 9, 2016. She lived for 5 hours and I am so grateful for the best 5 hours of my life. She was loved and held every single second of her life. I was so happy to see she looked just like me. We spent those 5 hours looking her over and memorizing every part of her. My heart has been forever changed and I know I will never be the person I was before the births and deaths of my children. I just hope to be at peace one day. Everyday is a struggle. I have more "good" days than bad but even the good days are not the same as before my children.
I flew to Chicago in September and had a life changing surgery that will help me to carry future pregnancies. My surgery was on my daughter's due date and I know that was not by coincidence. I know my angels are forever watching over me.
-Jennifer Nelson
Baton Rouge, LA
Published 1/10/17