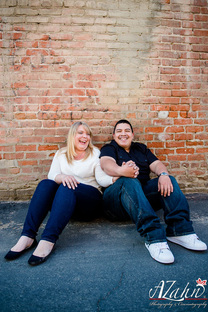 A year before my husband and I got married I discovered I was pregnant. It was a complete shock to both of us since I was on birth control but we were very excited. A week later while I was at work I started having extremely sharp menstrual cramps. Upon going to the bathroom I discovered I was bleeding very heavily which resulted in my boss sending me home early.
I called my ob/gyn and she had me come in immediately. I had an ultrasound and discovered that my baby was about 8 weeks but my doctor didn't think he/she would make it because of my heavy bleeding. I ended up having a D&C because the fetus would not pass on its own. It was a very painful time for my husband and I especially because it was three days before my 22nd birthday.
We got through the tough time together and married on May 16, 2014. Five months later I got the news we were pregnant again. This time I was 6 weeks when we found out. I was terrified I would have another miscarriage and kept the news from my family until I was 12 weeks. Everyone was so excited and we started making all the plans and preparations to bringing a new baby into the world. On January 7, 2015 we found out we were having a baby girl and decided to name her Madeline. My husband and I were getting more and more excited as the days went on and I finally started feeling comfortable buying all the stuff we would need when she made her debut.
On February 13, 2015 I felt like something wasn't right and noticed that I had a large wet spot on my pants. My husband convinced me to call my doctor who told me to go to the ER to test for amniotic fluid. At 7:05 pm we were told our little Madeline had no heartbeat and that the large wet spot on my pants was just a coincidence. I felt like my world was flipped upside down and all of my dreams were shattered.
After 13 long hours of labor I delivered Madeline stillborn on Valentine's Day morning, she was 10 in and 13 oz at 22 weeks. We decided to see and hold her which I do not regret at all and I cherish the memory of holding her. It has only been a month and I am still working through my loss but my husband and I have decided to try again as soon as it is possible for me. I miss her everyday and wish I could hold her. But I am feeling better everyday and I look forward to giving her a little brother or sister that will love her as much as my husband and I do.
-Jessica O.
Bakersfield, CA
Published 3/23/15