In 1988, President Ronald Reagan designated October as national Pregnancy and Infant Loss Awareness Month to bring light to an issue that affects so many people. Each year in the United States, approximately 1 million children die in utero or shortly after birth, making it 1 in 4 pregnancies that result in a loss.
Help us speak out!
Join us this month in increasing awareness in several ways:
1. Join us on October 15 for Pregnancy & Infant Loss Remembrance Day and the Wave of Light
2. Share these photos on Twitter, Facebook, Instagram, or any other communication outlet: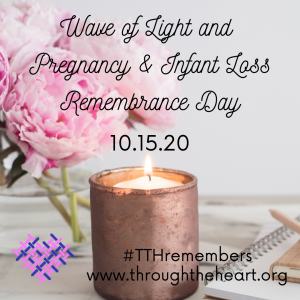 3. Join us for Heartoberfest! Shop our online auction and donate in the international food eating contest to help us raise funds for pregnancy loss support & education programs
4. Use #TTHremembers as we honor those babies gone too soon
5. Wear blue and/or pink throughout the month and share a photo on social media
6. Add your baby's name to our wall of remembrance
7. Add a filter to your Facebook and/or Twitter profile photo to spread pregnancy & infant loss awareness
8. Send a Comfort Kit or request educational postcards
9. Donate or volunteer with our organization!
10. Join us for a  fundraiser at Haute Dogs & Fries on Oct 21!
11. Spread the word! Share information about our organization and our website with family, friends, neighbors, co-workers, anyone. When people start opening up about pregnancy loss, they are often surprised to find how many others they know who have been affected – you are not alone!
Thank you for speaking out & breaking the silence about pregnancy loss!