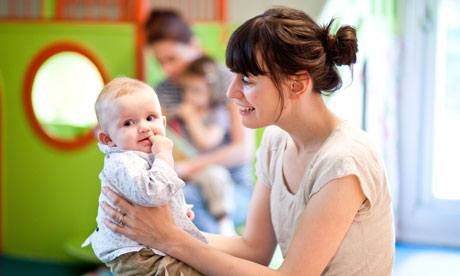 You made it through a healthy pregnancy – congratulations! But now what? After so long of worrying about getting and/or staying pregnant, you now have a whole new set of worries. Parenting is never easy even under the best of circumstances, but raising a child after a loss can bring extra emotions you didn't expect.
Having a baby isn't a fix-all. Although trying to conceive and pregnancy may have been a difficult time for you, it doesn't magically end once you give birth. Some moms report having worse anxiety or depression after their baby is born. A baby seriously changes your life, especially in the first few months when you may be dealing with issues like sleep deprivation, colic, reflux, problems with breastfeeding or reactions to formula. It can be incredibly stressful. Make sure to take care of yourself – you can't take care of your child unless you do! Seek out a medical professional if you need to. Lean on those around you, especially your partner, for support (and remember he's doing his best too!) and accept help when it is offered to you.
Parenting after a loss seems to go 2 ways. You may find yourself doing a little more "helicopter parenting" because you remember everything you went through to have your child and you want to protect your little one. Or, you may find out that you are more lax in your parenting than you expected or planned. Pregnancy loss shows us that even when you do everything right, sometimes things just don't work out. There's no way to be perfect despite your best efforts. Whichever side you find yourself on, remember to trust your gut, just do your best, and try to enjoy every moment!
Here's what moms who are parenting after a loss have to say:
Our journey to get our son is a daily reminder of how much we prayed for him and wanted him, and how special he is to us, and how that carries over into the hard parts of parenting.
Don't drive yourself nuts about getting on a schedule…they do eventually sleep!
Don't fall for all of the scare tactics. Trust yourself and know that no one else knows your baby as well as you do. No one.
I had a traumatic birth experience that brought up issues/emotions related to our losses. I didn't really expect that.
I didn't allow myself to get attached during the pregnancy but the minute she was born I let myself feel everything and there was so much emotion. Everything I went through I would do again just to have her in that moment. It was amazing.