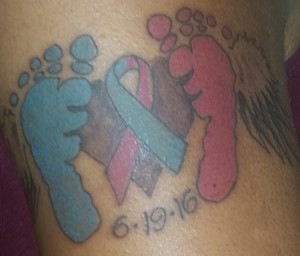 In 2007, when I was young and full of dreams of motherhood, I longed for the day in which I would get to see a BFP on a home pregnancy test. At age 27, my doctor whom I had been seeing for some years, happily told us to "go for it," and so the process began. After 6 months, and no progress, we returned to the doctor only to be told you're young, give it a full year then come back if you aren't pregnant.
Well one year hit and I returned to the doctor only to be given information about infertility and some test that needed to be done to see if everything was "working right." After 18 months of TTC, I had the HSG test and laparoscopy and was given a referral to the RE. So, I began seeing the RE at about 2 years into the TTC process. After months of blood work and IUIs with no success and a diagnosis of unexplained infertility we took a break from treatments, which lead to a divorce.
Now fast forward 2012, I began dating again and entered into a long-term relationship. We both wanted children and started TTC again. After another major surgery in Jan 2016, and almost hemorrhaging in April 2016, I miraculously got pregnant after a weekend away. No drugs, no doctors, just a down right miracle. So in May of 2016, after so many years of trying, hoping, wanting, I was finally going to have my baby. After having 3 ultrasound appointments that went from "everything looks good" to seeing a shrinking sac, and carrying for 12 weeks, I miscarried on June 19, 2016. My little angel baby filled me with so much joy in those 3 short months. Now I stand in the crossroads of a barren woman who almost became a mom.
No amount of professional success or educational achievement topped the moment I saw I TWO lines on the stick. All of the morning sickness and body changes were worth it knowing my baby was growing inside me.
Every morning I woke up and felt like finally my world was complete. And now I have such deep heartache and pain in a place where just months ago was filled with such joy.
-Raziya
Chicago, IL
Published 11/3/16