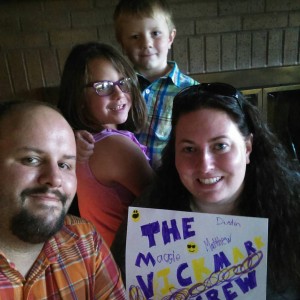 After having a tube removed we didn't think we'd be able to conceive again. However in June 2015 we found out we were pregnant. I was scared, nervous and happy all at once. The Sunday after we found out I started to bleed at church and am pretty sure I passed baby in the bathroom there. It was a long week of testing and ultrasounds only to confirm that yes, I had had a miscarriage. My doctor said, "Remember God knew that either baby wasn't healthy or the pregnancy wouldn't have been good for you!" (as we were both crying).
She then talked to the doctor that could do the D&C and he rearranged his schedule to get me in right away. The nurse I had told me she has had 4 miscarriages all at different points in pregnancy. It was so nice to have her to talk to and discuss my feelings of sadness, growth, understanding and how to be happy. Everything was sent to the lab and then sent back to our local funeral home. We have a place to bury our unborn babies at our cemetery, but our cemetery dude asked if we would like to bury baby with my grandparents. TEARS! Checked with my uncle and mom and they both thought it was a great idea!
So we had a small service with our Deacon (our priest was out of town) and baby was buried with my Grandma Nellie and Grandpa George. My favorite part of all of this is, my kids were at VBS that summer and had made crosses with stick and twine with a heart on a tag. So in my vase I have their crosses and the rose from the funeral home for our baby. A great reminder of the 3 little blessings God has given me.
-Stephanie Vickmark
Perham, MN
Published 10/11/16