Autumn is here. I have mixed feelings about this season. On the one hand, Autumn in upstate New York is glorious. The leaves burst forth in color and there is a freshness and crispness to the air that I love. On the other hand, as the season progresses the trees get bare, and darkness seems to take over. Days are shorter and signs of winter quietly appear such as the first falling snowflakes.
In Chinese medicine,  Autumn is considered the season of grief and that is very  fitting. With the end of the year fast approaching, we reflect on the past year and our lives. We tend to think of those we have lost and what might have been. Grief that we long thought dormant may rise up.
I  find the seasons to be a good analogy for life and death. We have no control over them. Every year we have the repetitive cycle of birth, growth, closure, and death. This quote from the Avengers: the Age of Ultron–"A thing isn't beautiful because it lasts." –speaks to the cycle of life. Without Autumn there would be no Spring.
Our grief changes over time. I find that my grief surfaces as the seasons change and during the holidays. Many people particularly struggle with grief over the holidays. We don't just grieve those we lost, but what might have–and what we think should have–been. I find myself thinking not only of the meteorological seasons but of my life seasons. Each season not only brings back both happy and sad memories but provides the opportunity to remember how we got to where we are today. It blesses us with the courage, fortitude, and gratitude to move forward.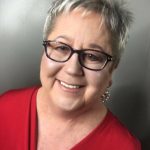 Deborah experienced the loss of her grandson, Liam, in January of 2019. She has two grown children, both adopted, and two grandchildren. Deborah lives with her husband, Keith, and dog, Kovu. Now that she is retired Deborah volunteers with several heart-health focused organizations. She is the author of the book "A Journey of the Heart: Learning to Thrive, Not Just Survive, With Congenital Heart Disease.