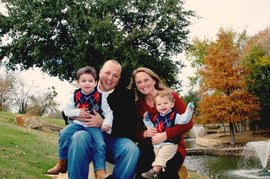 My daughter Avery died in 2008 after a "perfect" pregnancy. I was active, had no morning sickness, and had no red flags. When my water broke on the night of June 30, just weeks before my due date, I thought I was headed to the hospital to have a baby. Then I saw the blood on my sheets, on the floor…Avery was my first child, but I still knew something was very wrong.
When I got to the hospital they couldn't find a heartbeat, and, when I finally gave birth to my beautiful girl 36 hours later, the umbilical cord was wrapped tightly around her neck. Losing my daughter was a complete shock, and I felt like a total failure. I couldn't understand how my body, the same body that nurtured her, the same body that grew her, ultimately was responsible for her demise. I let down my daughter, my husband, and myself.
My grief ate away at me, and I fell into a deep depression. I didn't want to see anyone; I didn't answer the phone when it rang. I was a teacher and had the summer off, so it was very easy to disappear. I became obsessed with having another baby, anything to fill the void that was left by the little girl I couldn't keep.
Going back to work in the fall was hard. As a teacher I led a very public life. Everyone knew what happened, but no one wanted to talk about it. Losing Avery was all I could think about, yet I had to keep my emotions stuffed away because every time I brought her up people became so uncomfortable. I'd always been a writer, so I started putting my story on paper. It began as a way to understand my own feelings, to figure out all of the pain and guilt twisted up inside of me. It soon turned into a way for me to remember my daughter, to ensure that I never forgot the brief miracle that was her life. The more I wrote, however, the more I realized that I had the power to help others with my words. I eventually wrote a book chronicling my story, and I'm thankful that I was able to create a legacy for Avery and help people at the same time.
We just celebrated Avery's sixth birthday. It seems so long ago that I held her in my arms, yet it also seems like yesterday. I've since been blessed with two healthy, rambunctious little boys that, with their macaroni necklaces and dandelion bouquets, have made my life a whole lot brighter. My life is good – happy, even. But not a day goes by that I don't miss my baby girl.
-Heidi Chandler
Texas
Published 8/12/14