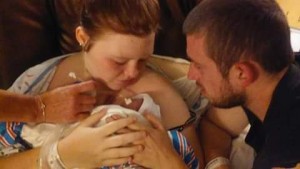 On February 28 I found out I was 5 and a half weeks pregnant. It was the best, overwhelming surprise we have ever received. I had extreme morning sickness and lost 30 pounds, but the doctors said everything was fine. On July 2, I was at a 4th of July get together with family, watching my boyfriend lighting off fireworks.
Around midnight I started experiencing cramps and as time progressed it got worse. I went to use the bathroom and noticed I was bleeding. I called my mom and she told me to go to the hospital. My boyfriend rushed there. When they checked, they couldn't find my cervix and my baby boy was pushing himself out. They took me to a delivery room, but I was there 5 minutes and was making my way into an emergency C-section. I don't remember much about it except them telling me when my baby was leaving so I could look and that he was born 4:41am on July 3. He was so little.
I spent the next 12 hours wondering when I could see him or if he would live – I was told there was a 21 percent chance he would survive. The doctors couldn't stabilize him. When we finally got to see him I had to sign papers for him to have a blood transfusion. He was taken off a ventilator 7 times within the hour I was there. The doctors looked at me and said I could have them stop whenever I pleased. I looked at my mom and boyfriend and asked what to do, pouring tears, but they didn't know. I told them to stop and they unhooked everything, put him on my chest and continued bagging him until he passed away. The worst thing I ever heard was there was no heartbeat.
I named him Owen Ryan Thomas. Every day I have to live with that decision and pretend like it doesn't bother me. I can't even look at baby clothes or diapers without breaking down.
-Katlyn
Kentucky
Published 9/26/16