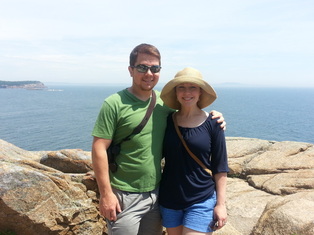 My husband and I had been married for 5 years when we found out I was pregnant with our first child. We were so thrilled, especially since it took us a year to get to that place. We were 31 and ready to finally to start a family. I had a great pregnancy, minor nausea at the beginning but it was smooth sailing once I got in to the second trimester. All of my appointments went well. The baby's heartbeat was always strong and she looked perfect on the ultrasounds.
My due date (March 20, 2015) came and went. I had an ultrasound 3 days after my due date and everything looked fine. I then had a non-stress test at 41 weeks. The baby's heartbeat still sounded great. The doctors were all pleased with the results and saw no reason to rush an induction. I was in good health and the baby was in good health. That was on a Friday. We agreed that if the baby didn't come over the weekend, we'd do another ultrasound on Monday and schedule an induction on Tuesday.
On Saturday I noticed the baby was a little less active than usual. I was feeling tired and thought my body was showing signs of pre-labor. After several hours I became worried because even after drinking cold water and juice, the baby was not moving much. I sat quietly on the couch and tried doing kick counts. I got 5 kicks in 2 hours. I started to become very anxious. My husband and I decided to try counting again but quickly changed our minds and decided to just call the doctor to be on the safe side. We've never had to call during off hours for anything. We thought we were just being super safe and worrying too much. After all, the baby would have very active days and then quiet days sometimes. I thought today was one of those quieter days.
We ended up rushing in to the hospital only to find out our baby girl's heartbeat had stopped. We couldn't understand how so much could change in 24 hours. I was 41 weeks and 2 days when I was induced. I gave birth to Elliot Kathryn on March 30, 2015. She was full term, 7 lbs 11 oz, 21 inches long. She was so beautiful. Our hearts are completely broken over this unexpected loss. We don't know what happened, and may never know. We're waiting on several reports. I hope we find an answer. I know someday we will try for a baby again. But for now we are mourning the loss of our Elliot. She is our first daughter. We will always love her and we will never forget her. She cannot be replaced. We bonded so much during pregnancy. She was already a big part of our family. We still can't believe she is gone.
-Lori Davis
Massachusetts
Published 5/6/15